AGUA VISTA PARK is a small waterfront park and fishing pier in Mission Bay. A great spot to have lunch along the waterfront, the park is perfectly situated with views of the bay and into the ship repair operations at Pier 70 and boatyards at Pier 66. It is an ideal place to see the transformation along the eastern waterfront as well as the construction at Mission Bay. It is a short walk to the commercial corridor along 22nd St in the Dogpatch.
Pier 70 will be undergoing redevelopment to bring many of the historic structures up to code, as well as to create a set of new public spaces, residential and commercial developments in accordance with the Pier 70 Masterplan. Agua Vista Park will also link together a proposed set of parks from the Mission Bay redevelopment to the north and Crane Cove Park from the Pier 70 Masterplan to the south.
HISTORY
Agua Vista Park sits on land that was constructed with fill during the 19th and 20th centuries as industries developed around Potrero Point. One of the largest of these industries was a steel works located at Pier 70 just to the south of Agua Vista Park. The shipyards have been in continuous operation for over 150 years, serving as a ship repair facility today.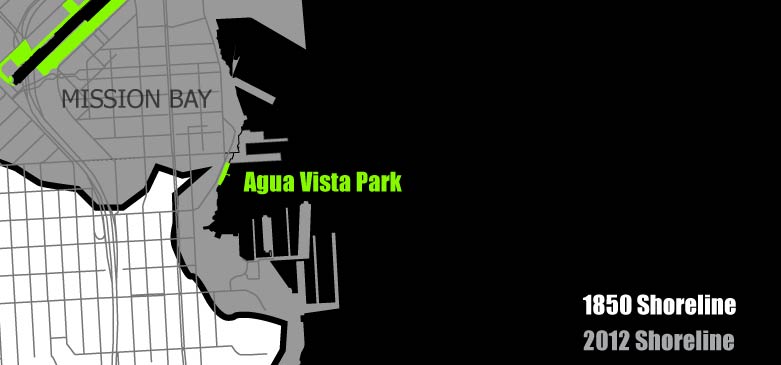 Diagram of filled land around Agua Vista Park
Union Iron and Brass Works was founded here in 1849 by Irish immigrant Peter Donahue. The works was sold to Bethlehem Steel in 1906 but operated as Union Iron Works until 1917.[1] During its peak, Bethlehem Steel employed over 10,000 workers, building ships for the Navy during WWI and WWII.[2]
For an in-depth look at the history of Pier 70, see: Pier70sf.org and FoundSF.org
Image: San Francisco National Maritime Museum, courtesy of FoundSF.org
Agua Vista Park was dedicated as open space in 1971 as a mitigation for the creation of the Port of San Francisco's containerized shipping facility further south at Islais Creek. In early 2000, the Port added new concrete tables, security lighting, a bike rack and an environmentally sustainable pervious walkway connecting to the sidewalk, fishing pier and Mission Rock Resort to the south.[3]
REFERENCES
Destroyer History Foudation, http://destroyerhistory.org/destroyers/bethsf/
Christopher VerPlanck, "Dogpatch Historical Context," http://pier70sf.org/dogpatch/DogHistSig.htm
Adapted from "Agua Vista Park" at http://bluegreenway.org/parks-sites/
IMAGE CREDITS
Image: San Francisco National Maritime Museum from http://www.foundsf.org/images/a/ac/Mn-pier70_ph2_0499129474.jpg