INDIA BASIN is home to two parks and a shoreline access trail that connects to Heron's Head Park along the former site of the PG&E Power Plant. On the west side is India Basin Shoreline Park with look-out points, benches, picnic areas, a multi-purpose ball court, and a playground with swings and slides. To its east is India Basin Open Space, a 6.2 acre area with shoreline access and wetlands. The wetlands and mudflats around each park provide a great opportunities for birding in one of the warmest microclimates in the city, usually sunny and protected from winds by Hunters Point.
Changes to many of the adjacent areas present many options for the future of India Basin. PG&E is cleaning up the closed Hunters Point Power Plant which is scheduled to be completed in 2012. The public housing on West Point, consisting of converted naval barracks from the 1950's never intended to be permanent, is being completely rebuilt through the HOPE SF program and will include a better mix of housing and income types through increasing density as well as providing much needed space for local retail or community services lacking in the area.
HISTORY
The origin of the name India Basin is unknown, but it first appeared on maps in 1868. Much of the land around India Basin was created with fill, with Evans St, Hunters Point Blvd, and Innes St tracing the path of the former shoreline.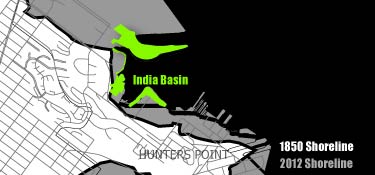 Diagram of filled land around India Basin
Once home to a vibrant shrimping industry, many small Chinese fishing camps were located along the shores of India Basin. Twelve different companies operated out of the area, selling shrimp locally as well as processing it for shipment to China. Piers extended out into the bay for fishing and ship building work. Several residents from Bayview recall buying shrimp from the area near the current location of the playground in India Basin Shoreline Park.
City Shrimp Company junk at Hunter's Point near San Francisco, Paul Bonnot, 1931
Chinese shrimp camps and beds in south San Francisco Bay, Courtest of FoundSF.org
Most of the structures and piers from the shrimping companies were burned in 1938 to make way when the Navy claimed the land for expansion for the Hunters Point Naval Shipyard.[1]
Fire Department burning structures to make way for the Navy, 1938, Greg Gaar Collection, courtesy of FoundSF.org
For more on the history of the shrimping industry, see the California Fish and Game Bulletin on Calisphere or FoundSF.org.
The Hunters Point Power Plant opened in 1929 along the shore of India Basin. It operated until 2006 when residents successfully and community leaders argued for it to be shut down. For more information about the cleanup, see PG&E's site on the Hunters Point Power Plant or FoundSF.org for more images.
REFERENCES
"Chinese Shrimping Village," FoundSF.org, http://foundsf.org/index.php?title=Chinese_shrimping_village
IMAGE CREDITS
Image: City Shrimp Company junk at Hunter's Point near San Francisco, Paul Bonnot, 1931, from http://content.cdlib.org/data/13030/8z/kt3f59n68z/figures/caljsiol_sio1ca175_038_011b.gif in "The California Shrimp Industry" http://content.cdlib.org/view?docId=kt3f59n68z&brand=calisphere&doc.view=entire_text
Image: Chinese shrimp camps and beds in south San Francisco Bay, Courtest of FoundSF.org, from http://foundsf.org/images/7/7b/HP-shrimp-camps-map-orig_2832.jpg in "Chinese shrimping village" http://foundsf.org/index.php?title=Chinese_shrimping_village
Image: Fire Department burning structures to make way for the Navy, 1938, Greg Gaar Collection, from http://foundsf.org/images/0/0c/Bayvwhp%24shrimp-village-burns.jpg in "Chinese shrimping village" http://foundsf.org/index.php?title=Chinese_shrimping_village